Disclaimer: I was not paid for this post, however I did receive free registration for The Color Fun. #WeShine

Was your New Year resolution to get fit this year and now a few weeks in, maybe you're losing momentum? It happens! I feel it too. One thing that I've done is explore some goals to keep myself committed, like The Color Run!
Last year, my friend Amy and I participated in the Color Run in Dallas. We had so much fun! The best part was the color! The event staff really does a great job in creating lots of hype and excitement with confetti cannons, shimmering color clouds and whole lot more! The energy was amazing, the people were super friendly and we got to say we completed the 5k.  Small steps to that half in training, right?!
This year The Color Run is kicking it up a notch with The Shine Tour! Take a look!
Not only will there be color, there will be sparkles! Each participant in 2015 will receive a limited edition Shine Tour Participant Kit including: a custom race tee, gold finishers medal, tricolor headband with silver stitching, a shine packet and shiny tattoos!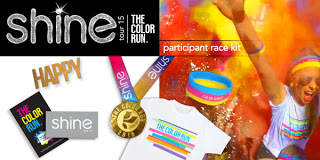 This event covers the globe with more than 300 events in over 50 countries! Sign up solo or with a friend / team. If you sign up now before the next price jump (or if your city is not yet open), sign up for the VIP list and get info on upcoming discount prices!
For more info or to sign up – The Shine Tour!
Which location will you be attending?!