Disclaimer: The Fredericksburg Inn & Suites provide a complimentary two-night stay in exchange for sharing my experience with readers. As always, 100% of opinions, photos and content are my own. 
On a rainy Wednesday evening, we arrived in Fredericksburg, Texas. We checked into the Fredericksburg Inn & Suites, right off Main Street in downtown, amazed at how close it was to the center of it all. Tired after a long drive from Fort Worth, we were ready to relax and get comfortable. Upon entering our room, I would've sworn this room was just for me!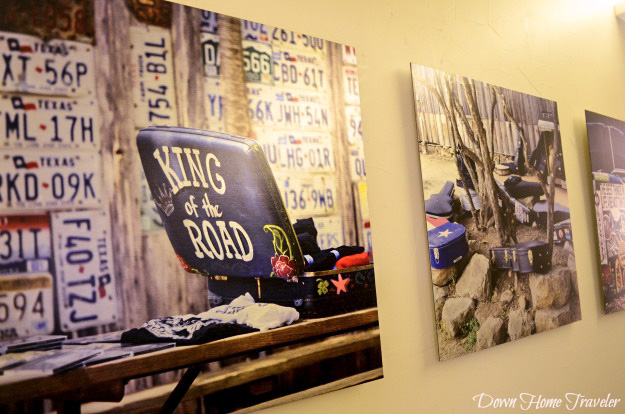 If you know me, you know I love rustic charm, barns, Luckenbach (it was on our list while in town) and live music. Upon entering the room, low and behold the first thing I noticed was the Luckenbach decor on the walls, exhibiting some local flavor. Next, the barn doors separating the living room, bathroom and bedroom. Ah – it was just for me!
The room itself (one of ten suites on the property) was in the courtyard area with a view of the heated pool, hot tub and lush landscaping. Inside, I met my relaxation! The living area includes a large couch which pulls out into a bed (perfect for the kids or a couple friends), a TV, fridge, coffeemaker and microwave.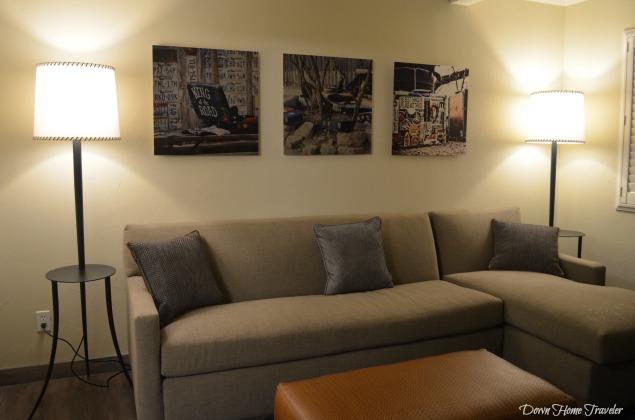 The bathroom was large and elegant. Perfect for privacy separating the shower and sink areas.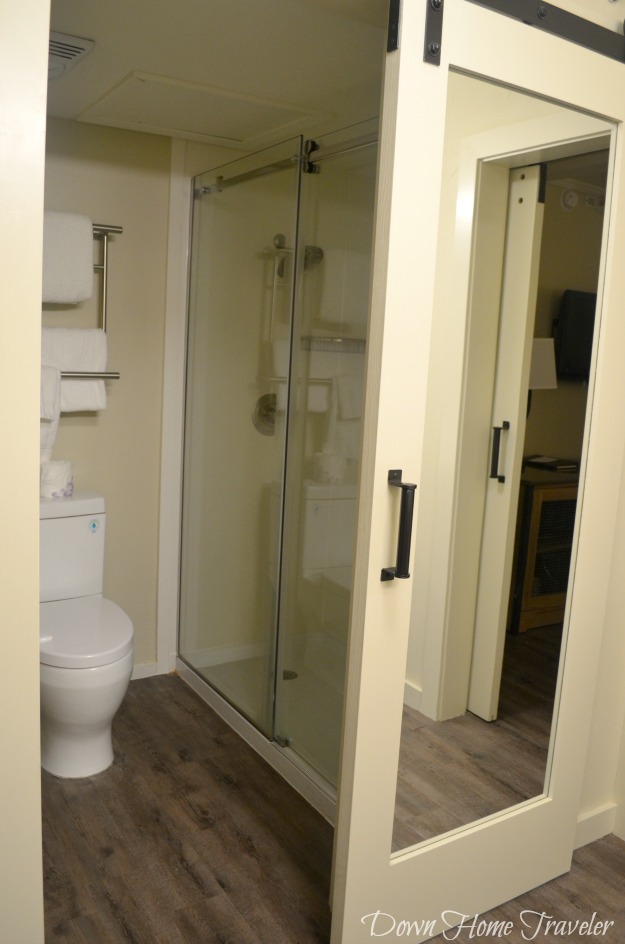 The bedroom housed a king size bed and another TV with many, many pillows (again – this room was made for me). As soon as we arrived and saw the room, I thought, we've got to come back – two days won't be long enough!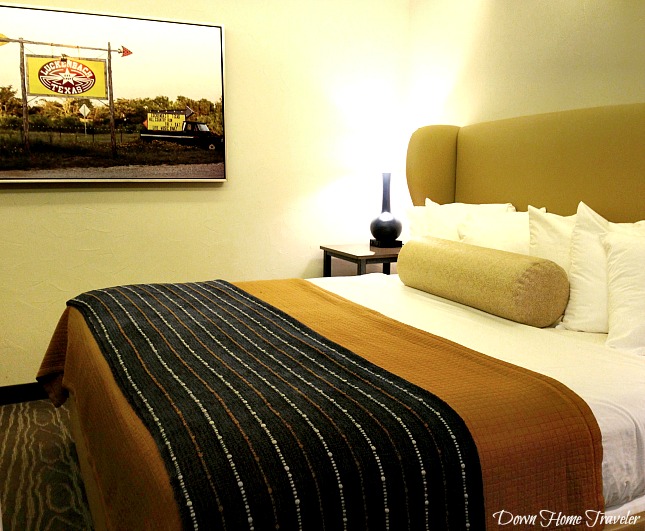 Now, it rained the entire two days we were in Fredericksburg but honestly, we were in the perfect place. Complimentary breakfasts in the morning not only saved us money and time but it saved us from being in the rain and it was tasty! Texas shaped waffles, pancakes, muffins, scrambled eggs, bacon, cereal, yogurt and juices were all available. That's one heck of a bargain especially if traveling with family (and saves money to purchase your favorite wine or item while visiting town). And don't tell anyone, but I found delicious, warm chocolate chip cookies in the lobby one afternoon.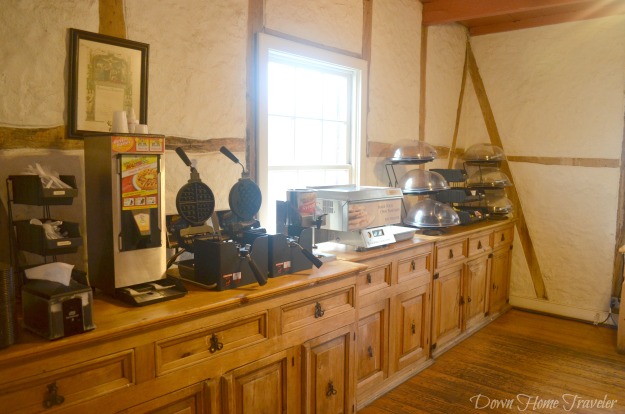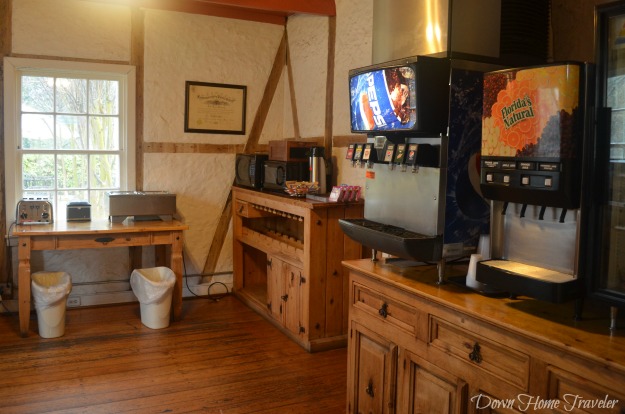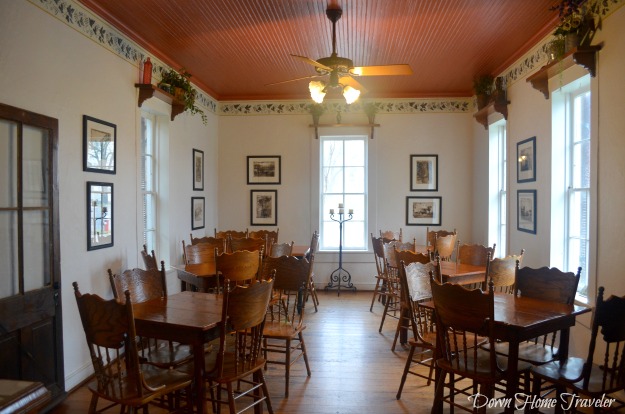 Outside, the heated pool and hot tub were well occupied even if it was raining. A firepit, open stone gazebo, grill and lots of room next to Barons Creek to relax, have a picnic and even play a game of washers. It's really a great place for anyone when traveling, rain or shine.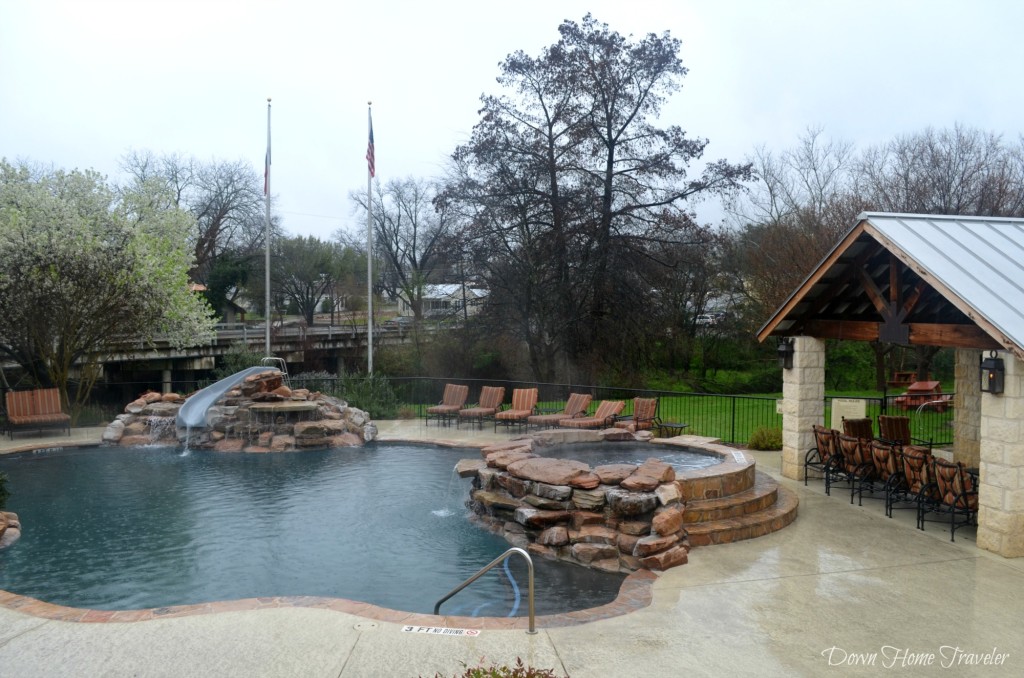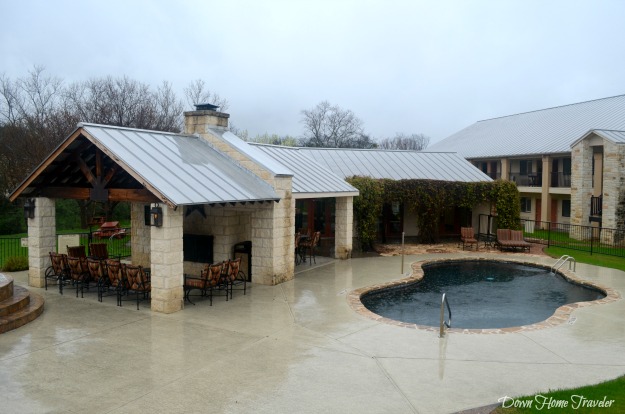 The Fredericksburg Inn & Suites is also a historical landmark. The original home on the property is now the kitchen and dining area for breakfast. The interior holds the same walls and flooring and historical documents can be found throughout. It's really interesting to see and feel what the space use to be like back when and how it remains in tact today. A little bit of Fredericksburg history and charm!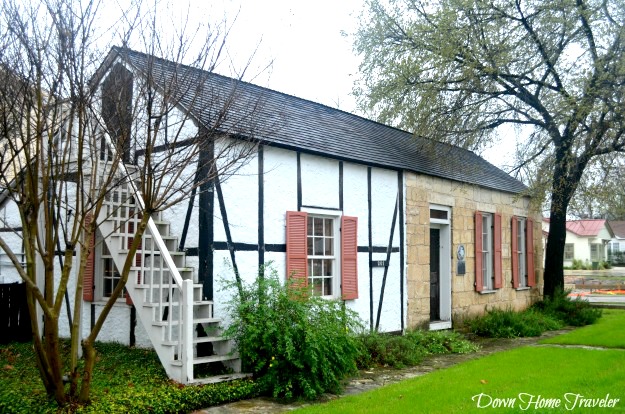 We absolutely loved our time at the Fredericksburg Inn & Suites and cannot wait to go back. We didn't want to leave and felt completely relaxed in our home away from home. This is a place which we would highly recommend to families, couples and even single travelers. The location, accommodations, activities and price are all just right!
Let us know about your stay!
Be sure to check out the Fredericksburg Inn & Suites website as well as their Facebook page for more photographs of their renovated rooms. The rooms and the property are beautiful, (especially when it's not raining).
For more information:
Fredericksburg Inn & Suites
201 S. Washington
Fredericksburg, TX 78624
Facebook: Fredericksburg Inn & Suites
Need ideas on what to do while during your stay? Check out 48 Hours in Fredericksburg!